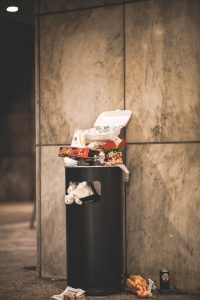 Organizations face many challenges when it comes to waste management. In addition to ensuring walkways remain uncluttered and litter free, they must also ensure proper pick-up of waste receptacles. While some organizations choose to hire an outside firm to handle regular pick-ups, others choose to handle waste management in-house. Whichever option the organization chooses, significant time and money goes into regular pick-ups and maintenance of waste bins and receptacles.
Prevent Unnecessary Pick-Ups & Overflowing Waste Bins
While most waste management teams focus on scheduled pick-ups, this doesn't provide an effective solution. Waste bins fill at different rates and most waste management teams pick-up bins whether full or not. Another problem, if one bin fills faster than others, it might have to wait for quite some time for the next scheduled pick-up. This increases the chance of litter spilling and spreading from one area of the building to another. Not only does this create a mess, it also increases the chance of rodents, insects, and disease transmission.
Mint Controls' Fill Sensor attaches easily to any bin. The Sensor continuously collects and transmits information regarding fill level, bin location, temperature, and status. This data gets sent directly to the waste management team, ensuring bins get emptied when needed. It also prevents unnecessary pick-ups. While this might not seem like a big issue, these pick-ups can add up to several hours each week. Using Fill Sensors, organizations can reduce waste management teams and ensure workers only get paid for the hours they work. For organizations that handle waste management in-house, Fill Sensors allow staff to focus on other important matters.
Users can view information provided by the Fill Sensors at any time from any device that connects to the Internet. Depending on the needs of the organization, the system can send alerts when bins reach a certain percentage full. This ensures bins receive attention when they need it, and not a moment sooner. It also helps prevent bins from overflowing.
IoT Solutions for the Modern Business
When you work with Mint Controls, we work directly with your organization to evaluate your needs and develop a comprehensive solution. We offer numerous options and features.
Please contact us for more information about our Fill Sensor solution.