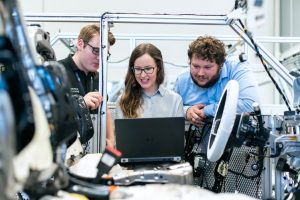 Factory managers face numerous challenges. In addition to ensuring workers remain productive, they must also make sure projects get completed on time and to customer specifications. Unfortunately, many factory managers have no way to track assets, staff, or time.
Manufacturing companies and other organizations responsible for the creation of parts and products could benefit from implementing a tracking solution. The right solution increases productivity, improves accountability, and ensures projects get completed on time and to customer specifications.
RFID Tracking Solutions
Using RFID and custom-tailored software, manufacturing companies can track every part, component, and finished product as it moves from one end of the factory to the next. The system completely eliminates the need for barcodes and provides management with visibility of the manufacturing process.
Passive RFID tags apply easily to a variety of assets. These label-like tags automatically track which parts go to which finished product. This helps ensure the correct assembly of products, reducing the chance of errors and recalls.
Tracking Employee Location & Productivity
In addition to tracking parts and assets in inventory, factory managers can use the RFID system to track employee location throughout the workday. Each employee wears an RFID-enabled badge encoded with specific information. Readers placed throughout the facility track employee movement. The system provides information about length of time employees spend in each location. This allows management to locate employees spending too long on lunch breaks or in other areas where they shouldn't be. It also helps management quickly figure out who is missing from assembly lines.
When used in combination with an asset tracking system, this solution helps locate employees that leave with expensive assets. This might be especially beneficial in automotive factories or other factories that produce expensive parts.
Custom-Tailored IoT Solutions
When you work with Mint Controls, we work directly with you to fully evaluate your needs and develop a comprehensive solution. Our team has years of experience and can suggest a number of additional features and options.
Please contact us for more information about our asset tracking solution for companies in the manufacturing industry.