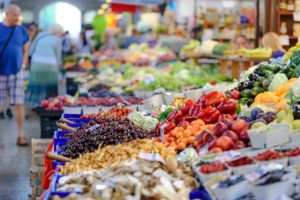 Consumers today want access to fresh, organic produce. This is becoming even more important since the recent E Coli outbreak. People want to know that the produce they purchase is safe to consume. Unfortunately, most retailers don't have many options when it comes to purchasing produce.
Most, if not all, of the produce found at grocery stores and other retailers are grown on traditional farms. Unfortunately, farmers often spray crops with harmful chemicals and poor quality water on traditional farms. Traditional farms also take up a lot of space. It's clear that we need a better solution.
Our Solution
Vertical farming has numerous benefits for the retailer, consumer, and environment. Vertical farms produce stacks upon stacks of produce without the use of herbicides, insecticides, fertilizers, sunlight, soil, or even human intervention.
Mint Controls' vertical farm uses 95% less water than conventional farming and creates absolutely no run-off. This protects our groundwater and allows farmers to produce crops even in areas affected by drought.
Human hands never touch the crops produced by our system. Automation allows our vertical farm to care for itself. Crops are planted, cared for, and harvested by the system. This eliminates the chance of human error. From temperature to watering, our system monitors every aspect of the growing process.
Our system uses LED lights to provide plants with UV rays. It monitors the roots of plants and gently sprays them with recycled water as needed. The system consists of flat growing platforms, stacked up to ten levels high. Farmers can grow a wide range of crops on these platforms.
Grow Crops in Any Space
Vertical farming allows farmers to grow more crops in less space than any other method. Since our system does not require sunlight or soil, farmers can grow crops in buildings and underground. This reduces the amount of space required to grow crops, which benefits humans as our population continues to grow.
Mint Controls' vertical farming system is available to retailers and farmers in the United States and abroad. Our team comes directly to your location to evaluate your needs and create a customized solution. Please contact us for more information about our vertical farms.