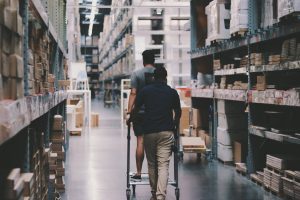 Warehouses often struggle to monitor and track inventory as it moves throughout the facility. It's not uncommon for warehouse owners to use inaccurate and inefficient methods to keep inventory counts, locate inventory, and track when items leave the warehouse. Unfortunately, this increases the chance of theft and loss, and makes it virtually impossible to locate inventory when necessary.
Using RFID, organizations can quickly and easily locate a wide range of assets within the warehouse. With configuration, the system can track item location and movement in real-time. Leaders can view inventory counts and track when assets leave the building through Mint Controls' user-friendly Software.
How it Works
Using a special printer, warehouse staff print RFID labels. Each label contains a passive RFID tag encoded with specific information about the asset. The RFID number is added to the Software with a description of the item. RFID antennas and readers placed strategically throughout the warehouse collect and transmit information about asset location.
Tracking Assets Outside the Facility
Sometimes, warehouse owners need to track assets outside the facility. While passive RFID provides an effective tracking solution inside, it cannot tell warehouse owners the location of inventory after it leaves the building. Using Active RFID Tags, organizations can monitor and track the GPS location and status of assets during shipping and while at customer locations. Many 3PL Providers use this solution to provide their customers with greater visibility of valuable shipments.
In addition to GPS location, Active RFID Tags monitor whether assets are dropped. This could prove especially beneficial to 3PL companies and warehouses that lease equipment to their customers. Using Active RFID, organizations can tell the exact date and time of impact, increasing accountability and ensuring accurate billing.
RFID Solutions
When choosing an RFID Solution provider to work with, it's important to locate a company with experience working with a variety of industries and situations. Mint Controls has the experience and technology needed to provide a comprehensive RFID Solution. We work directly with our clients to fully evaluate their needs and develop a comprehensive solution.
Please contact us for more information about RFID tracking.