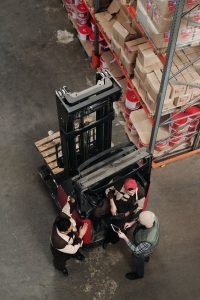 Organizations often find it difficult to track the location and activities of staff. Unfortunately, without proper tracking, employees can take extended breaks or enter restricted areas. Even small organizations with few employees could benefit from an employee tracking solution.
RFID Tracking Solution
Using employee badges equipped with RFID, employers can discreetly monitor employee location, time spent in each location, and when staff enters and leaves the building. The system automatically tracks each person as they move from one room to the next. All data is collected and transmitted at regular intervals. Employers can view the location of multiple employees in real-time.
Benefits of Employee Tracking
This type of solution provides numerous benefits to businesses across a wide range of industries. For organizations with sensitive equipment, documents, or dangerous spaces, configuration of the system allows alerts to be sent when employees come close to restricted areas. Depending on the needs of the organization, the system can send alerts via text message or email. Each organization sets their own rules for the system. This ensures leaders receive alerts in plenty of time to redirect employees.
Organizations concerned about employees taking long breaks, not arriving on time, or staying overtime without permission can use the system to track location and hours worked. Configuration ensures employers receive notice when employees stay after hours, arrive late, or stay in one place too long.
For companies with expensive assets, tagging items with RFID allows employers to monitor when employees leave with certain assets. The system automatically scans and transmits the information encoded in employee badges and RFID labels. The system provides the exact time and date of movement from one area to the next, increasing accountability and ensuring nothing leaves the building unnoticed.
Factories that rely on assembly lines can use the RFID tracking system to track missing employees. The system automatically checks to make sure everyone is where they need to be before production starts.
Southern California IoT Solution Provider
Mint Controls has helped multiple companies increase accountability in the workplace. We work directly with each of our clients to evaluate their needs and develop a comprehensive solution.
Please contact us for more information about our RFID tracking system.